Premium Connection
In order to provide service in tough application surroundings, WRG supplies optimal performance and premium connections, which are widely used by our customers in South-East, South America and Africa.Our premium connections can greatly improve the usage span life and save costs for the end user.
TP-CQ|2-3/8"~13-5/8"
Structure Features
High performance gas-tight premium connection for casting and tubing, ISO 13679 CALIV approved.
Excellent gas seal-ability under combined load
Easy stabbing, No cross threading
Superior Anti-galling performance
Easy repairing
Suitable for low alloy & carbon steel pipe
Modified Buttress Thread
Taper=1:16
TBG: 2-3/8in~2-7/8in: 8T.P.I. 3-1/2in~4-1/2in: 6T.P.I.
CSG: Sin~13-5/8:5T.P.I.
Meta-Metal Seal
Seal Taper: TBG: 1:1.732 CSG: 1.10,1.6,1.3
Reverse angle torque shoulder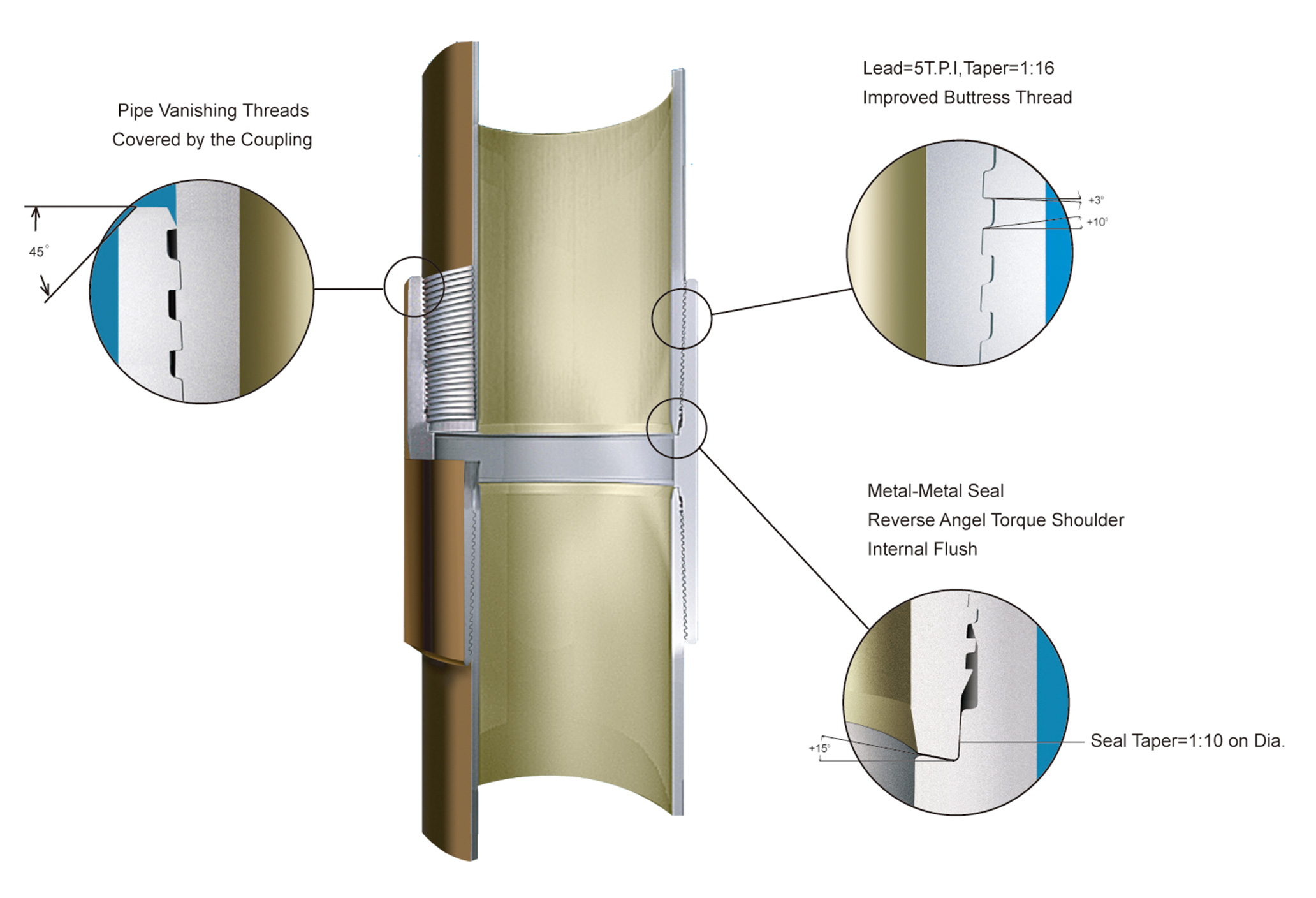 Performances
Threaded Connection
Improved Buttress thread with a taper of 1:16. The clearance at the top of the thread crests minimize thread galling and avoid the tapping of compound inside the threads.
Metal-to-Metal Seal
Metal-to-metal seal surface can provide enough contact length and pressure. The seal system offers excellent gas-tight sealing, even under the most combined loads.
Reverse Angle Torque Shoulder
The reverse angle torque shoulder provides a positive torque stop, which allows accurate power tight make-up and minimizes hoop stresses in the connection strength.
Streamlined Internal Profile
A pin ID chamfer, tight tolerances on the coupling center combined with a long shoulder will minimize turbulence and energy loss.
Coupling Design
Joint efficiency is more than 100% and coupling critical section is greater than pipe body section.
Connection Low Stress Design
Connection low stress design ensures more safe under corrosive environment.