TP-G2|2-3/8"~20"
Structure Features
Gas-tight premium connection for the deep, high deviated and horizontal well, ISO 13679 CALIV approved.
Excellent resistance to bending, compression and torque
Superior anti-galling performance
Reliable gas-tight sealing under any kind of combined loads
Especially suitable for highly deviated and long horizontal wells
Suitable for high alloy & carbon steel pipes
Hooked Thread
TBG: 2-3/8in~2-7/8in: 8T.P.I
3-1/2in~4-1/2in: 6T.P.I
CSG: 5in~8-5/8in: 5T.P.I
9-5/8in~20in: 4T.P.I
Large angle Metal-to-Metal seal, Reverse angle torque shoulder, Internal flush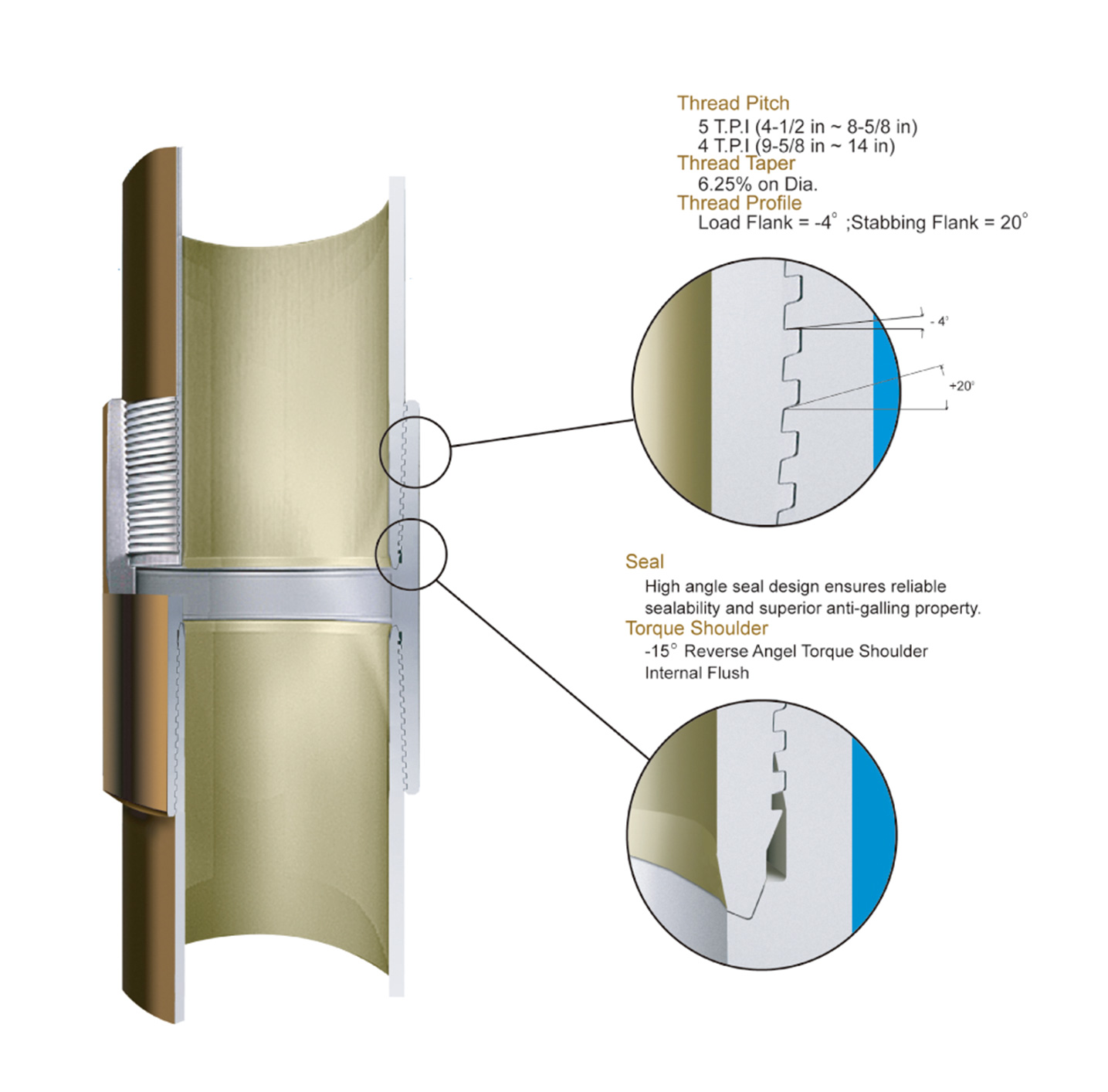 Performances
Threaded Connection
A modified hook thread profile with 4º reverse angle on the load flank, which provide the connection with superior tension strength and increase its resistance to compression.
Metal-to-Metal Seal
Large angle metal-to-metal seal system offers excellent gas-tight sealing, even under the most severe combined loads. The seal integrity remains constant after repeated make-ups and break-outs.
Reverse Angle Torque Shoulder
A reverse angle torque shoulder provides a positive torque stop which allows for accurate power-tight make-up and minimizes hoop stresses in the connection.
Streamlined Internal Profile
A pin ID chamfer, tight tolerances on the coupling center combined with a long shoulder will minimize turbulence and energy loss inside the connection for high-velocity gas flows.
Coupling Design
The design owns 100% efficient connection performances.
Connection Low Stress Design
Connection low stress design can ensure that it can be safe under corrosive environment.